mar 04 2009
I'm on Svalbard and well! No time for long recaps though, so here comes a short one:
- I am on Svalbard, for the second half of the Arctic Winter Ecology course. It's awesome.
- We've looked at completely dehydrated, nearly frozen collembola (springtails, tiny arctic invertebrates that jump) come back to life after spending 4 months in a freezer.
- We've learnt how to age and sex-determine Svalbard ptarmigans (Lagopus mutus hyperboreus) from their wing feathers, and looked at their crop contents to see what kind of plants they prefer to eat.
- They prefer Bistorta viviparum bulbils (Harerug / the Alpine Bistort), which is also heavily foraged by students while on field excursions (they're yummy, who would think that viviparous propagation modules would be so tasty).
- Nybyen (the barracks outside Longyearbyen were the students are supposed to stay while on Svalbard) is full, so now we're living in Mary Anns Polarrigg Guesthouse downtown. 5 min walk to Unis vs. 35 min….wonderful.
- …Especially since it's been windy, very windy, I'm talking «grabbing hold of small people almost  blowing them out on to the tundra»-windy. I'm talking shaking the house windy, I'm talking the kind of windy were you suddenly can't move forwards because the wind is stronger than you, grabbing hold of you, trying to move you the opposite way from where you want  to go. I love it.
- We (the students + three others) spent the weekend at the studentcabin in Bjørndalen (Bear Valley). 
 The cabin took amazingly two meagre hours to heat up, opposed to the five hours we spent huddling in the sofa the last time,  and we were all hyper and happy over such a luxury (not freezing). We ate good food, drank good wine, played card games, tried to play the horribly untuned guitar and went «butt-sliding» down the mountainside the next day. On our way home on Sunday a beautiful orange-red-pink sunset over turquise ice sheets accompanied our retreat along the Adventfjord. I kicked myself a dozen times for not having fixed my camera yet, commanding everybody with cameras to take lots of pictures, secretely planning to go on a picture raid with my USB-stick later on.
- I've reached a new level of general cold – hardiness and «don't give a poop»-attitude regarding temperatures. The part of the guesthouse were our rooms are is separated from the kitchen and the livingroom, meaning one has to venture OUTSIDE to get from the one place to the other. I can not be hassled with meaningless items like proper pants, boots and jackets when I only have to move 10 meters, and I think I peaked the «Svalbards most nonchalant dressers»-record when I ran through a complete white-out (wind, snow, no visibility) wearing slippers, thights, a cotton dress and a hoodie. Okay, maybe nonchalant is not completely deserved, after all I squealed like a piglet as I went along, and had to stand in front of the fireplace half an hour in order to seize shaking when I got inside, but it still counts!
- I've ridden a beltwagon for the second time in my life, with a madman behind the wheel taking us over every bump on the tundra he could find at 50 km/h.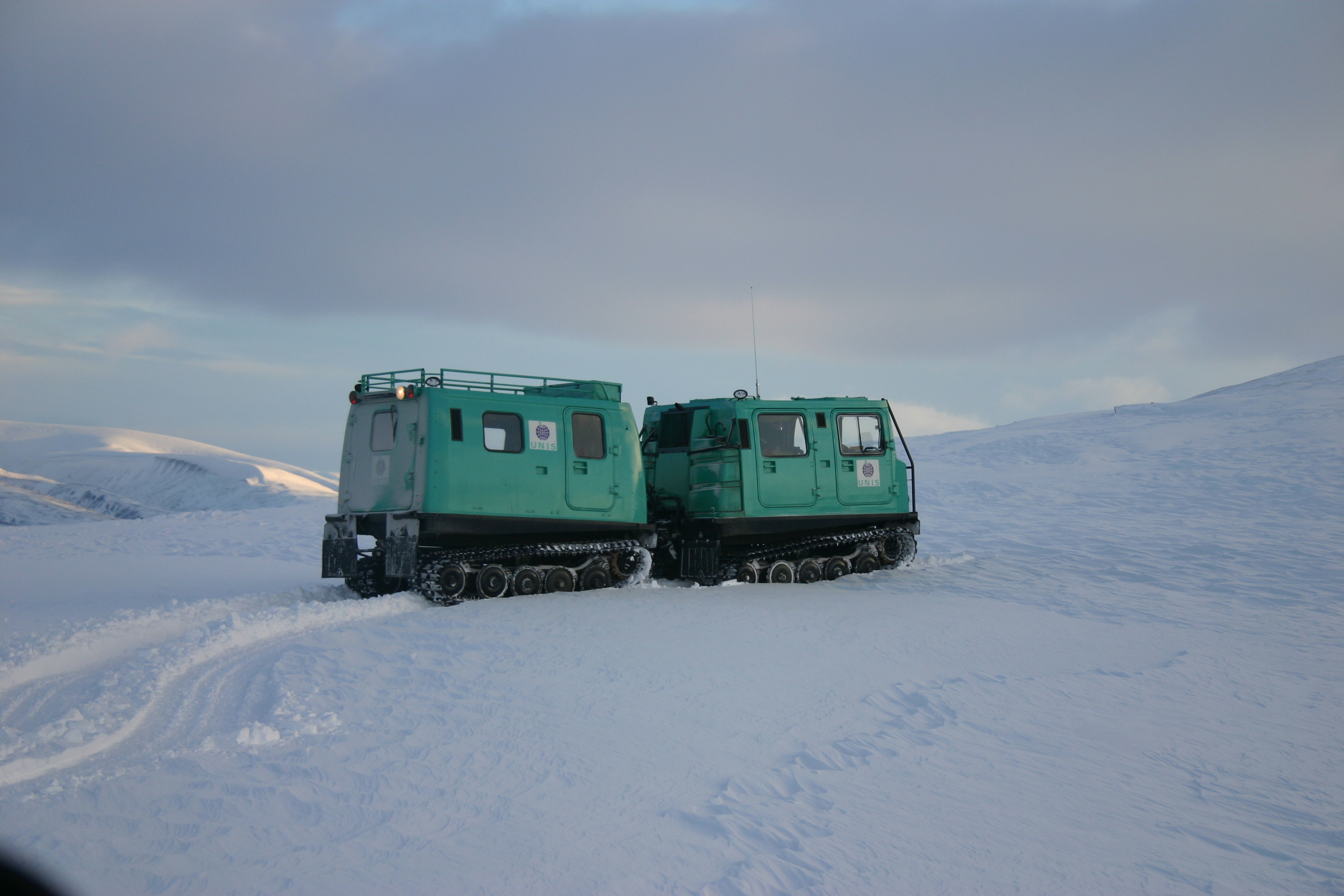 I sat in the front wagon with three of my professors having a somewhat «grown up conversation» but I still couldn't stop myself from squealing whenever the Madman drove over a particularly steep bump/depression. So much for trying to make an intelligent impression on people.